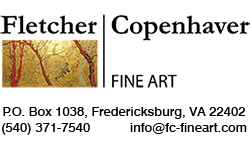 Charles Picart-Le-Doux (1881- 1959)
Picart-Le-Doux was born in Paris and studied there, first in 1900 at the Académie Julian in the atelier of Marcel-André Baschet, and then at the École des Beaux-Arts under Gérôme. A friendship with Renoir led him away from academic art, and Impressionism strongly influenced the landscapes he began to show at the Salon des Indépendants from 1904. He also exhibited at the Salon de la Société National des Beaux-Arts, Salon d'Automne, and the Salon des Tuileries. In 1837 he was awarded the Grand Medal of the Exposition Internationale of Paris. In 1950 Picart-Le-Doux was made an Officer of the Legion of Honor.
Picart-Le-Doux is remembered as a figure painter, especially of female nudes. After the First World War he painted many landscapes of scenes around Paris, in Touraine and Provence.
One of his most important commissions after the First World War was for murals on the ocean liner Normandie. He also illustrated a number of literary works including volumes of poetry by Paul Verlaine and Charles Baudelaire and a novel by Colette.
Works by Picart-Le-Doux are found in many museum collections: Musée de Petit Palais and the Musée National d'Art Moderne in Paris, and in the museums of Bagnols, Le Havre, and Nice, as well as The Museum of Modern European Art in Moscow.
---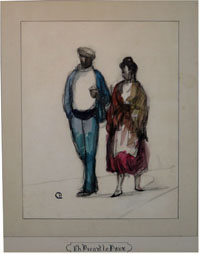 Charles Picart-Le-Doux 1881- 1959
A Couple From Arles
Watercolor
Signed with a monogram, lower left;Signed in a cartouche, lower center: "Ch. Picart Le Doux"
Sheet size: Approx.: 16 X 18 inches, laid down on old mount
Frame size: 23 X 19&frac34 inches
The sheet and mount have been professionally de-acidified.
FC02111 $2,800
View • Print • Purchase
FLETCHER/COPENHAVER FINE ART
P.O. Box 1038, Fredericksburg, VA 22402
(540) 371-7540 Fax (540) 371-0347