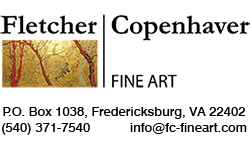 Augustin Hanicotte (1870-1957)
Augustin Hanicotte was born in Béthune, France, the thirteenth child in a family of seventeen. Left an orphan at the age of thirteen, he was taken in by an uncle who looked after his education and encouraged his artistic skills. Hanicotte moved to Paris when he was twenty-one, and was soon associated with the group of artists who were known as La Vache enragée (The Angry Cow). He became acquainted with Toulouse Lautrec, Théophile Alexandre Steinlen, and began to study with Fernand Cormon (who was also the teacher of Toulouse Lautrec) at the École des Beaux-Arts. In 1897 Hanicotte exhibited a painting, Solitude, at the Paris Salon des Artists Français. Later the painting was acquired by the Musée de Saint-Nazaire. In 1899 he first visited Holland and was to spend much of his life in the Dutch town of Volendam and the French fishing village of Collioure, also maintaining an apartment in the 9th arrondissement of Paris throughout his life.
Hanicotte was a friend of Maurice Denis and the art of Denis and other Nabis, with their emphasis on painting as "essentially a flat surface covered with colors in a particular order" was a great influence on his work.
In his lifetime, Hanicotte's paintings were shown widely at exhibitions in Paris, Brussels, and Tokyo. The critic Louis Vauxcelles praised his work for its luminous quality and popular character, and in 1910 the poet and critic Apollinaire called Hanicotte's entry in the Paris Salon exhibition of that year: "...the best painting in the Salon." His work was also exhibited in 1917 and 1918 in New York, Chicago, Pittsburgh, and Toronto. The bold colors and monumental dignity of his work won him several commissions for tapestries from the famous factory at Gobelins.
His work is found many private and public collections including the Museum of Art and History of Narbonne, Museum of Béthune, Zuiderzee Museum in Enkhuizen, and the Museum of Valenciennes. The museum of Collioure in the south of France held a retrospective of Hanicotte's work from 14 September through 22 October, 2000.
---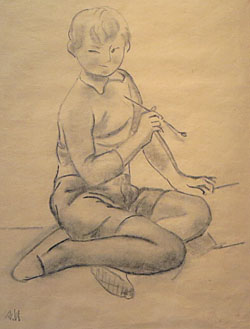 Augustin Hanicotte 1870-1957
The Young Artist
Charcoal drawing
Initialed by the artist in pencil, lower right - Estate stamp, lower left
Provenance: Estate of the artist
Sheet size: 12⅛ X 9&frac14
Frame size: 25&frac34 X 22&frac14 inches
Exhibited: Augustin Hanicotte, Collioure, 1915-1945, Musée d'Art Moderne et Château Royal de Collioure, September 14 – October 22, 2000
FC01135 $3,800
View • Print • Purchase
FLETCHER/COPENHAVER FINE ART
P.O. Box 1038, Fredericksburg, VA 22402
(540) 371-7540 Fax (540) 371-0347