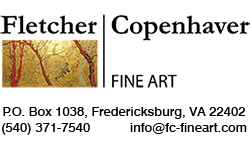 Moses Soyer, his twin brother Raphael, and their younger brother Isaac, were born in Russia. They immigrated with their family to the United States in 1912, and eventually settled in New York City. All three became important artists working in the realist tradition. Moses Soyer studied at the Cooper Union, National Academy of Design, Ferrer Art School, and at the Educational Alliance School of Art, where he later taught. He was one of the Works Progress Administration-Federal Arts Project artists, commissioned to do a series of murals dealing with child life. In 1963 he was elected to the National Academy of Design, and in 1966 to the National Institute of Arts & Letters.
Soyer came of age artistically about the time of the Great Depression, and much of his art in the 1930s was influenced by this cataclysmic event. Responding from a humanitarian point of view to dire social conditions, he produced many significant works which portrayed those most affected by the Depression. Because of this early work, Soyer is often thought of primarily as a social realist, but as he developed as an artist, and as America moved out of the Depression, his work could no longer easily be characterized by the term social realism. He did not abandon the realist tradition, nor his interest in the social circumstances of the people around him, but his paintings became more suffused with a deeply felt, higher romanticism which had its roots in artists he loved: Rembrandt, Courbet, Corot, Eakins, Degas and other artists of the past whose visions were intimate and personal.
Soyer was employed as a muralist by the Works Progress Administration in the 1930s. One of his most important paintings, Artists on WPA, is now in the collection of the Smithsonian American Art Museum. His experience with the WPA notwithstanding, Soyer's basic interests were not in creating large public works; he found himself drawn instead to more private and intimate expression. Early on, he discovered his primary subject: the human figure, and became, in the words of one museum director, 'unquestionably one of the important figurative painters of this century.'
As critic Bonnie Barrett Stretch wrote in a review of a recent Moses Soyer exhibition: "Depictions of 'unguarded moments are a hallmark of Soyer's work, and his technical sophistication and subtle approach allowed him to portray not only the physical likeness of his subjects, but something of their inner life...Soyer's figures seem to grow more alive the longer we look at them. Taken together, they evoke a community of common hopes, shared hardships, and simple dignity. In capturing the essence of so many private lives, Soyer also caught the essences of an era."
Moses Soyer's work is found in many museum collections, including: Metropolitan Museum of Art, New York... Museum of Modern Art, New York... Whitney Museum of American Art, New York... Brooklyn Museum, New York... Philadelphia Museum of Art, Pennsylvania... Detroit Institute of Art, Michigan... Newark Museum, New Jersey... Montclair Museum, New Jersey... Smithsonian American Art Museum, Washington, D.C.... Phillips Collection, Washington, D.C.... Hirshhorn Museum, Washington, D.C.... National Portrait Gallery, Washington, D.C.... City Art Museum, St. Louis, Missouri... Wadsworth Athenaeum, Hartford, Connecticut...Virginia Museum of Fine Arts, Richmond, Virginia
---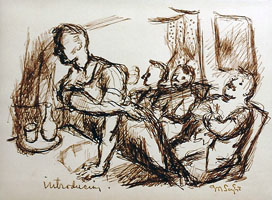 Moses Soyer 1899-1974
Introducing!
Pen and brown ink
Inscribed in brown ink, lower left: "Introducing!"; Estate stamp, lower right
Provenance: Estate of the artist
Sheet size: 7¾ X 9¾
Frame size: 16½ X 18¾
A meeting of artists during the Depression
FC13007 $4,800
View • Print • Purchase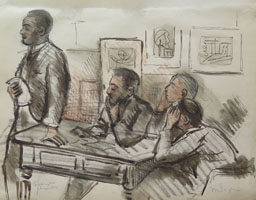 Moses Soyer 1899-1974
A Meeting of the Artists Union
Pen & ink, ink wash, red conté crayon
Inscribed in graphite, lower left: "Artists Union" Signed in graphite, lower left.
Provenance: Estate of the artist
Sheet size: 7&frac12 X 9&frac34
Frame size: 17&frac12 X 19⅞
FC14023 $4,800
View • Print • Purchase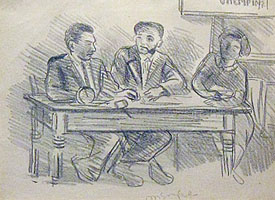 Moses Soyer 1899-1974
Unemployed - A Meeting of Artists
Black conté crayon
Signed in brown crayon, lower right
Provenance: Estate of the artist
Sheet size: 7½ X 9½
Frame size: 16¾ X 18¾
The sign in the background probably gives the topic under discussion
FC13008 $4,800
View • Print • Purchase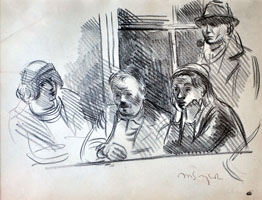 Moses Soyer 1899-1974
An Artists' Meeting
Black conté crayon
Signed with estate stamp, lower right
Provenance: Estate of the artist
Sheet size: 7½ X 9½ inches
Frame size: 17 X 18¾ inches
FC13015 $4,800
View • Print • Purchase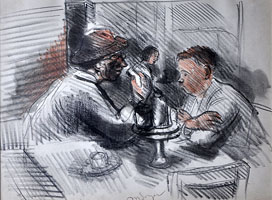 Moses Soyer 1899-1974
The Discussion
Black and red conté crayon
Signed in crayon, lower center
Provenance: Estate of the artist
Sheet size: 7½ X 9⅝ inches
Frame size: 16⅞ X 18¾ inches
FC13023 $4,800
View • Print • Purchase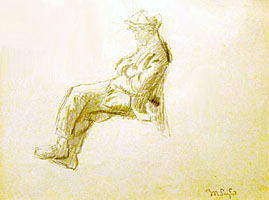 Moses Soyer 1899-1974
Out of Work
Graphite drawing
Signed in crayon, lower center
Provenance: Estate of the artist
Sheet size: 7 ½ X 9⅝ inches
Frame size:17 X 19 inches
From the 1930s
FC11092 $3,800
View • Print • Purchase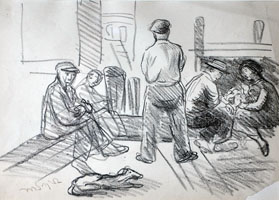 Moses Soyer 1899-1974
A Breath of Fresh Air
Black conté crayon
Signed in brown crayon, lower left
Provenance: Estate of the artist
Sheet size: 7½ X 9 3/5 inches
Frame size: 16¾ X 18¾ inches
FC13024 $4,800
View • Print • Purchase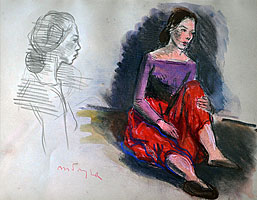 Moses Soyer 1899-1974
Seated Dancer; Study of a Dancer's Head
Watercolor, pen & black ink, black ink wash, graphite
Signed in red crayon, lower left
Provenance: Estate of the artist
Sheet size: 10¾ X 14 inches
Frame size: 20⅜ X 22¾ inches
FC13017 $4,800
View • Print • Purchase
Moses Soyer 1899-1974
Female Nude, Looking to the Right
Pen & red ink; red ink wash
Signed in red crayon, lower left
Provenance: Estate of the artist
Sheet size: 13¾ X 10¾ inches
Frame size: 23¼ X 19¾ inches
FC13021 $4,800
View • Print • Purchase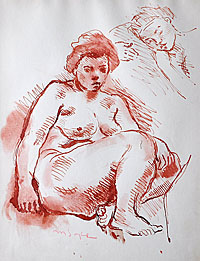 Moses Soyer 1899-1974
Seated Female Nude; Head of a Sleeping Woman
Pen & red ink; red ink wash
Signed in red crayon, lower left
Provenance: Estate of the artist
Sheet size: 13¾ X 10¾ inches
Frame size: 23¼ X 19¾ inches
FC13020 $4,800
View • Print • Purchase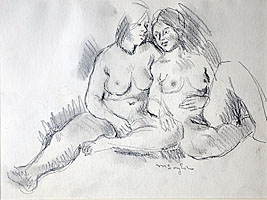 Moses Soyer 1899-1974
Friends I
Charcoal drawing
Signed, lower right
Provenance: Estate of the artist
Sheet size: 9½ X 12¾ inches
Frame size: 18¾ X 21½ inches
FC96055 $2,800
View • Print • Purchase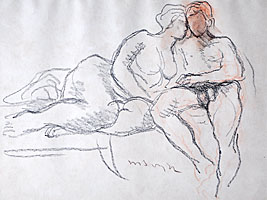 Moses Soyer 1899-1974
Intimacy
Red and black conté crayon
Signed, lower center: "M Soyer"
Provenance: Estate of the artist
Sheet size: 10 X 13 inches
Frame size: 18¾ X 21¼ inches
FC13027 $4,800
View • Print • Purchase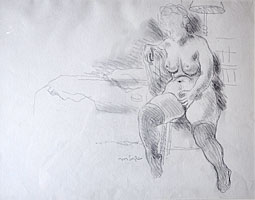 Moses Soyer 1899-1974
Seated Female Nude with Stockings
Charcoal drawing
Signed in charcoal, lower right
Provenance: Estate of the artist
Sheet size: 18 X 22 inches
Frame size: 26½ X 30¾ inches
FC96094 $2,800
View • Print • Purchase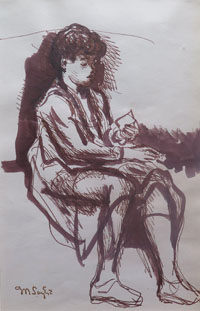 Moses Soyer 1899-1974
David, Sick and Home From School
Pen and reddish brown ink and reddish brown ink wash
Estate stamp, lower left
Provenance: Estate of the artist
Sheet size: 9½ X 6⅛ inches
Frame size: 19 X 15⅛ inches
Exhibited: Drawings and Watercolors by Moses Soyer: From Social Realism to Romantic Realism, Ridderhof Martin Gallery, University of Mary Washington, Fredericksburg, Virginia, January-March, 2002
FC14026 $4,800
View • Print • Purchase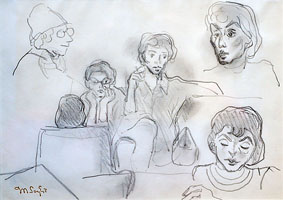 Moses Soyer 1899-1974
People on the Crossing I
Graphite (pencil) drawing
Estate stamp, lower left
Provenance: Estate of the artist
Sheet size: 7½ X 10 inches
Frame size: 16½ X 18⅜ inches
Drawn on a transatlantic crossing in the 1950s or early 1960s
FC98040 $2,800
View • Print • Purchase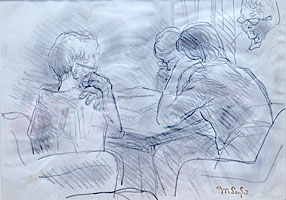 Moses Soyer 1899-1974
People on the Crossing II
Graphite (pencil) drawing
Estate stamp, lower left
Provenance: Estate of the artist
Sheet size: 7½ X 10 inches
Frame size: 16¼ X 18⅜ inches
Drawn on a transatlantic crossing in the 1950s or 1960s
FC98041 $2,800
View • Print • Purchase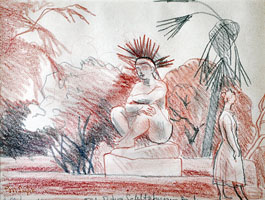 Moses Soyer 1899-1974
Ida in a European Park
Red conté crayon and charcoal
Estate stamp, lower left/Inscribed, lower left (illegible) and Lower center: "one of two Sculptures in Park"
Provenance: Estate of the artist
Sheet: 8 X 11 inches
Frame: 17 X 19 inches
A drawing made on one of the frequent trips the artist and his wife, Ida, made to Europe in the 1950s & 60s.
FC97109 $2,800
View • Print • Purchase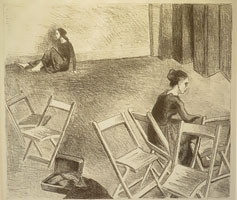 Moses Soyer 1899-1974
Repose - (Dancers & Chairs)
Lithograph
Signed by the artist in pencil, lower right; Inscribed, lower left: "II ed. 50-70
Provenance: Estate of the artist
Sheet: approx: 18 X 20 inches
Frame: 25¾ X 27¾ inches
Full sheet, untrimmed and in excellent condition. Related to Soyer's painting: The Letdown, 1950
FC96057 $1,200
View • Print • Purchase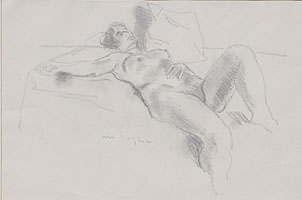 Moses Soyer 1899-1974
Reclining Female Nude
Charcoal drawing
Signed, lower center: "M Soyer"
Provenance: Estate of the artist
Sheet size: Approx. 12 x 19 inches
Frame size: 21 x 27 inches
FCC1302 $2,800
View • Print • Purchase
Moses Soyer 1899-1974
Two Studies of a Woman's Head
Pen and red ink and red ink wash; watercolor, black ink wash & conté crayon
Estate stamp, lower left
Provenance: Estate of the artist
Sheet size: 9½ X 5½ inches
Frame size:18¼ X 14 inches
FC99133 $2,800
View • Print • Purchase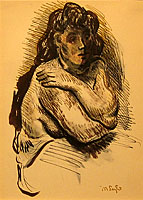 Moses Soyer 1899-1974
Female Nude with Crossed Arms
Pen & black ink; black, red, and blue ink wash
Estate stamp, lower right
Provenance: Estate of the artist
Sheet size: 9⅝ X 7⅛ inches
Frame size: 16¼ X 14⅛inches
In a handcrafted frame from Les Cadres RG, Paris
FC07085 $2,800
View • Print • Purchase
Moses Soyer 1899-1974
Artist and Model
Pen & reddish brown ink and ink wash, pen & black ink, graphite
Signed in red crayon, lower right
Provenance: Estate of the artist
Sheet size: 10¾ X 14 inches
Frame size: 20⅜ X 23 inches
FC02119 $3,500
View • Print • Purchase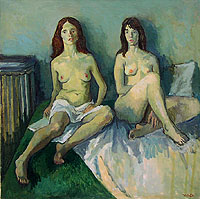 Moses Soyer 1899-1974
Two Female Nudes Sitting on a Bed
Oil on canvas
Signed, lower right:
Provenance: Estate of the artist
Canvas size: 40 X 40 inches
Frame size: 48 X 48 inches
FC02007 $22,000
View • Print • Purchase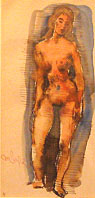 Moses Soyer 1899-1974
Standing Female Nude
Pen and brown ink and watercolor
Signed in red crayon, lower left
Provenance: Estate of the artist
Sheet size: 9½ X 6 inches
Frame size: 15⅛X 13⅝ inches
FC10057 $4,800
View • Print • Purchase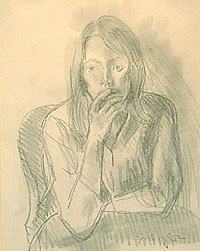 Moses Soyer 1899-1974
Café Portrait
Charcoal drawing
Signed in charcoal, lower right
Provenance: Estate of the artist
Sheet size: 12⅛ X 9⅞ inches
Frame size:21¾ X 18¾ inches
FC02034 $3,800
View • Print • Purchase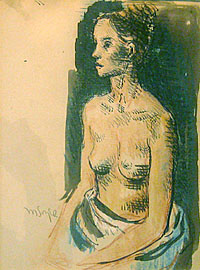 Moses Soyer 1899-1974
Seated Draped Female Nude
Pen & blue ink, red & black conté crayon, black ink wash
Signed in brown crayon, lower left
Provenance: Estate of the artist
Sheet size: 11 x 8 5/16 inches
Frame size: 20 ½ X 17 ¼ inches
FC02031 $3,800
View • Print • Purchase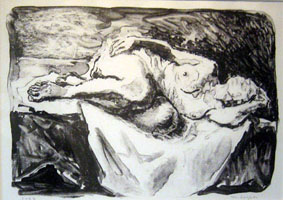 Moses Soyer 1899-1974
Reclining Female Nude
Lithograph
Signed in pencil, lower right
Provenance: Estate of the artist
Sheet:: approx/ 14 x 20 inches
Frame size: 20 ¾ X 25 inches
Full margins in excellent condition. Number 1 of an edition of 80
FC10058 $1,200
View • Print • Purchase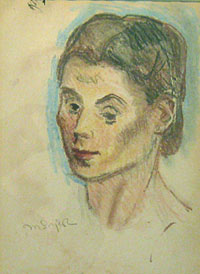 Moses Soyer 1899-1974
Study of a Woman's Head
Pastel, pen & blue ink, red and black conté crayon
Signed in brown crayon, lower left
Provenance: Estate of the artist
Sheet size: 11 X 8 3/8 inches
Frame Size: 20 ½ X 17 inches
FC02029 $3,800
View • Print • Purchase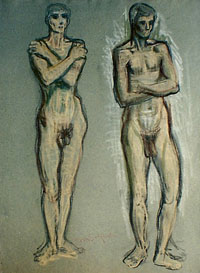 Moses Soyer 1899-1974
A Study of Two Male Nudes
Pastel, charcoal, and white chalk drawing on gray wove paper
Signed, lower center
Provenance: Estate of the artist
Sheet size: 24 X 17 inches
Frame size: 33 ½ X 25 ¾ inches
FC13003 $3,200
View • Print • Purchase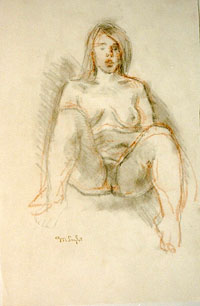 Moses Soyer 1899-1974
Seated Female Nude
Charcoal and red chalk drawing
Estate stamp, lower left
Provenance: Estate of the artist
Sheet size: 18 X 11½ inches
Frame size: 27¼ X 20¼ inches
FC96044 $2,800
View • Print • Purchase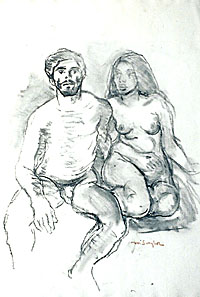 Moses Soyer 1899-1974
A Couple
Black conté crayon
Signed in red crayon, lower right
Provenance: Estate of the artist
Sheet size: 20 X 14½
Frame size: 29¼ X 23¼
FC96093 $3,200
View • Print • Purchase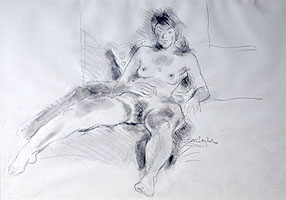 Moses Soyer 1899-1974
Seated Female Nude leaning on a Flowered Cushion
Charcoal and red conté crayon
Signed, lower right
Provenance: Estate of the artist
Sheet size: 12½ X 18 inches
Frame size: 21¾ X 26&frac34inches
FC96080 $2,800
View • Print • Purchase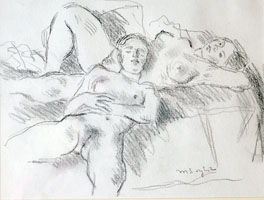 Moses Soyer 1899-1974
Friends II
Charcoal drawing
Signed, lower right
Provenance: Estate of the artist
Sheet size: 9½ X 12&frac34inches
Frame size: 18¾ X 21½ inches
FC96056 $2,800
View • Print • Purchase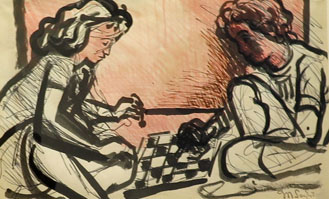 Moses Soyer 1899-1974
David Playing Chess with a Friend
Pen & black ink, black ink wash, pen & brown ink, red conté crayon
Estate stamp, lower right
Provenance: Estate of the artist; acquired from the artist's son
Sheet size: 6 X 9½ inches
Frame size: 15⅝ X 18⅝inches
David is the artist's son
FC14025 $4,800
View • Print • Purchase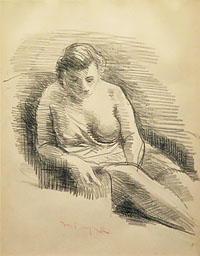 Moses Soyer 1899-1974
Seated, Draped Female Nude
Black conté crayon drawing
Signed, lower center, in red crayon
Provenance: Estate of the artist; acquired from the artist's son
Sheet size: 13&frac12 X 10&frac12 inches
Frame size: 23&frac14 X 19&frac34 inches
FC13005 $4,800
View • Print • Purchase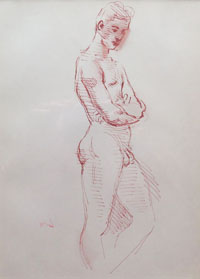 Moses Soyer 1899-1974
Study of a Male Dancer (Merce Cunningham?)
Pen & red ink and red ink wash
Initialed by the artist, lower left: "MS"
Provenance: Estate of the artist, acquired from the artist's son
Sheet size: 12 X 8&frac12 inches
Frame size: 21 X 17&frac14 inches
FC14028 $4,800
View • Print • Purchase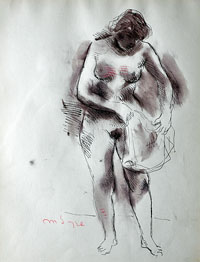 Moses Soyer 1899-1974
Female Nude, Holding a Towel
Pen & brown ink, brown ink wash, red conté crayon
Signed in red crayon, lower left
Provenance: Estate of the artist: acquired from the artist's son
Sheet size: 13&frac34 X 10&frac12 inches
Frame size: 23&frac14 X 19&frac34 inches
FC13022 $4,800
View • Print • Purchase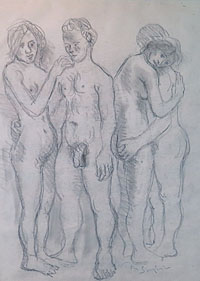 Moses Soyer 1899-1974
Two Nude Couples
Charcoal drawing
Signed, lower right
Provenance: Estate of the artist
Sheet size: 18&frac12 X 14 inches
Frame size: 28&frac14 X 22&frac34 inches
FC13029 $3,200
View • Print • Purchase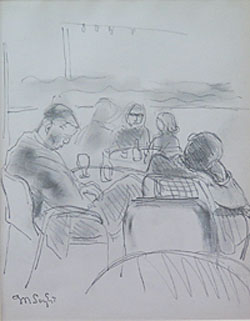 Moses Soyer 1899-1974
Transatlantic Crossing
Pencil drawing
Estate Stamp, Lower Right
Provenance: Estate of the artist
Sheet size: 12⅜ X 10 inches
Frame size: 21¾ X 18¾ inches
FC02121 $2,800
View • Print • Purchase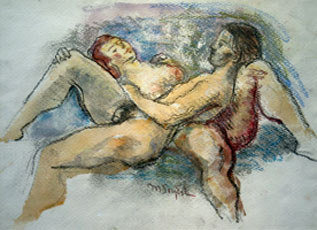 Moses Soyer 1899-1974
Intimacy
Pastel & black crayon
Signed in black crayon, lower center
Provenance: Estate of the artist
Sheet size: 11⅜ X 15&frac12 inches
Frame size: 19½ X 23½ inches
FC17026 $4,800
View • Print • Purchase
FLETCHER/COPENHAVER FINE ART
P.O. Box 1038, Fredericksburg, VA 22402
(540) 371-7540 Fax (540) 371-0347